All At Sea - Insurance for Watercrafts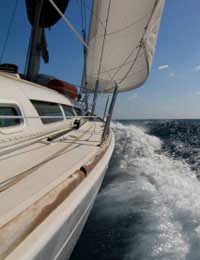 Sports recreation items like personal watercrafts - Jet Skis, Waverunners and Sea Doos - are becoming a popular leisure expenditure. These expensive items are often a water enthusiast's first step into the world of boats and larger watercrafts. Personal watercrafts are not toys however.
It is worth remembering that Jet Skis are not comprehensively covered by ordinary Home and Contents Insurance and should therefore be protected by a liability package provided by Personal Watercraft Insurance.
Many watersport pursuits are considered to be dangerous and hazardous. You will need to insure yourself against the risks involved while operating or transporting your personal watercraft. Knowing your watercraft is covered by a specialised premium will allow owners to fully enjoy their expensive investments.
Why You Need PWC Insurance
The policy will provide your craft with personal damage and liability cover.
Your personal watercraft will be protected against theft, fire, collision or vandalism, whether in or out of water.
Medical cover is included, to protect you against personal injury whilst on your watercraft, and will cover reasonable and necessary medical expenses. This also includes passengers using the watercraft, or being towed on water-skis.
Guest passenger and bodily injury coverage.
Actual Cash Value is determined by the current market value, age and condition of your personal watercraft, at the time of loss or damage.
Replacement Insurance coverage is available for personal effects such as clothing, cameras and sunglasses.
Water-ski coverage is usually included at no extra cost to you.
There is no time or location restriction for use of your personal watercraft.
Extra insurance coverage is also available to assist you with other aspects outlined below.
Roadside Assistance
A towing service to the closest qualified repair centre is provided as part of the policy coverage. This is provided when your tow vehicle or trailer has been damaged or disabled. There is no additional cost to you for this service.
Wreckage Removal
If your personal watercraft sinks, the PWC insurance will cover the cost of raising, removing and destroying the wreckage.
Fuel Spill Protection
It is your legal responsibility to maintain your personal watercraft to high standards. Should an unintentional oil or fuel spillage occur the Personal Watercraft Insurance will cover you.
Exclusions
Any personal watercraft that has been modified, or enhanced, to improve and increase performance will not be covered by Personal Watercraft Insurance.
Use of the watercraft by anyone not holding a valid driver's license.
Use of the watercraft in the dark.
General wear and tear.
Scratching and/or denting whilst the watercraft is in transit.
Benefits of PWC
A Personal Watercrafts Insurance policy will give you peace of mind, whilst you are busy enjoying your leisure time. This kind of policy offers a comprehensive range of coverage to protect yourself, your vehicle and others. Liability coverage will protect you against bodily injury to others. as well as property damage to others if you are at fault in an accident.
As with any insurance policy, it is important to familiarise yourself with the policy's small print. The general policy exclusions, and limitations, will list all areas of possible concern. The policy will also highlight all benefits and features available.
You might also like...