Get-Out Clauses: Read the Small Print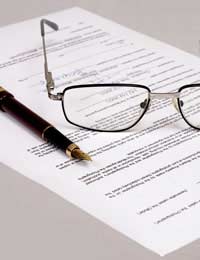 The key to making insurance work for you is understanding the product you are buying. Once you are well informed you will be able to deal with all manner of challenging situations as, and when, they arise.
What To Do
Firstly, check that your insurance policy covers the particular loss or damage that has occurred. Check your policies carefully, to clarify what is covered, as well as what is not.
Follow the claim instructions. This may involve calling a helpline number or submitting a written claim. Be sure to adhere to the claim deadlines. Failure to do this could prove very costly.
Be totally honest, with yourself and your insurance company. Avoid the temptation to exaggerate and add on extra items in order to bump up the value of your claim. This is fraudulent, and if caught out you could be facing a prison sentence.
Be precise and concise, and present your insurance company with as much information as possible. Doing so at the start will ensure your claim is dealt with efficiently. Insurance companies will be looking for grounds to reject your claim, so providing all the necessary information will prove the validity of your claim.
If you are dealing with a large claim, it is worth securing the services of a loss adjuster. Your insurance company will be relying on the services of this individual, but he/she will be working for them and not you.
Don't expect to make money from an insurance claim. The point of having insurance is to enable you to get back to the position you were in before the loss or damage occurred. It is not a potential get-rich-quick scheme. Payment of policy excesses actually result in the insured individual being slightly out of pocket at the end of the claim payout. Many Home Insurance policies do now provide a new-for-old cover, which will offer the claimant the opportunity to replace old items for new ones.
Clauses to Look Out For
Beneficiary – Failure to name a beneficiary will result in the insurance funds going to your estate, and probate fees will then make a big dent into your surviving family's liquid assets. Naming a primary, and secondary contingent, beneficiary in your policy will solve this potential problem. Remember too, that beneficiaries, like policies, may need to be updated over a period of time.
Survivorship - After your death the insurance money will go to the named beneficiary, but only if this individual survives you by a stated number of days.
Miss-statement of Age – Lying about your age, in order to reduce the premiums, may result in the insurer cancelling your policy, increasing your premiums or adjusting the policy amount.
Incontestable – During the first two years of your policy, the insurer is entitled to challenge the validity of your policy. This is done on the basis that you may have withheld information, for instance you may be a heavy drinker but have failed to admit this in order to reduce your premium. If you are found to have concealed information your policy will be voided.
Suicide – Your insurance company will simply not pay out funds if you attempt or commit suicide, within a specified time of the policy coming into effect.
War – If you are a victim of war your insurer will not pay out any benefits, but will reimburse paid premiums to your family.
Aviation – No funds will be paid to your family if you die on an airplane.
Grace Period – With any policy, there may be times when you are unable to meet the payments due to financial difficulties. Your insurer will offer a grace period within which you are expected to cover the cost of the outstanding premiums. During this time you will continue to be covered by your insurer. If you fail to pay the outstanding amount your policy will be cancelled.
Act of God – This is put in place by insurance companies in order for protect themselves from complete financial wipeout, in the event of a natural disaster occurring. Many policies do however cover extreme events like floods or lightning.
Once you have made a claim, don't be tempted to just sit back and wait for the cheque to arrive. Stay on top of your claim whilst it is being dealt with. Be persistent. If you feel the need to complain, do so.
You might also like...