Considerations When Insuring Your Home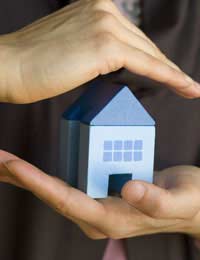 Home Insurance speaks for itself. It is generally perceived as a policy that covers a broad spectrum of events, catastrophes, accidents and loss. What you may not be aware of is that it takes into account many things that may affect the actual amount of money you finally get when you make a claim.
What you may not also be aware of is the fact that an insurance claim on your property could affect the future sale of your home. The actual saleable value of your home could also be affected by any claims made on the property by the previous homeowners, whom you purchased from.
Many insurers are now relying on the services of an Industry database, which uncovers your home's claims history. The Comprehensive Loss Underwriting Exchange, also known as CORE, deals with information based on damage reports and helps insurers make a decisive choice about whether to offer you their insurance services or not.
Bricks and Stones
A typical Home Insurance policy will insure the structure of your home, and will pay out when your home goes up in flames. Insurers will generally only cover about 80% of the value of your home, so the additional 20% will be covered by an add-on premium.
Things that insurance providers will take into careful consideration when you are insuring you home are:
The location of your property
The age of the building
The actual square footage of the dwelling
The quality of construction
All these considerations will affect your policy considerably, so it is worth familiarising yourself with the policy details. It is also recommended that you purchase an insurance policy that has guaranteed replacement costs, as this will mean that your insurers pay out for the entire reconstruction, and not merely up to an estimated value. To ensure this doesn't happen you will have to make sure you purchase homeowner's insurance valued to 100% of the property's current replacement cost. Your insurance provider can advise you further on this.
It's Your Loss
Home Insurance also covers personal property no matter whether the items are stored in your home, or are lost, stolen or damaged whilst in a different location. This can cover items such as jewellery, collectibles, furniture and even boats. There is a limit to the amount paid out however. Items will be valued at today's prices, so the expensive sound system you bought a year ago for £5,000 may only actually be worth a small fraction of that today, say £900. Replacement cost coverage, at a relatively small additional charge, will ensure your items are valued at the price you originally paid for them. So you will be reimbursed fully.
Accidents Will Happen
Home Insurance will also provide you and your family members with liability coverage. There is also 'umbrella liability' which extends to cover damages exceeding your current homeowner's insurance. Questions to ask yourself before you consider the 'umbrella' are:
Do you own recreational gym equipment and/or a swimming pool?
Are you clumsy?
Have any accidents occurred before?
Saying yes to these will mean you should seriously consider purchasing the extra coverage. Liability coverage will also protect you if someone else makes a claim against you because they have been injured on your property.
What's Not Covered
Whilst Home Insurance provides quite a comprehensive package, there are still some areas that are not covered by insurance policies.
What your Home Insurance won't cover:
Terrorism, war and nuclear accidents
Mould and water damage
Natural disasters
Neglect
Intentional damage
Dangerous Dogs
Computers (home business)
Something To Think About
If you work from home, running a small business, it is definitely worth reviewing your existing insurance coverage. A typical policy will only cover a percentage of the cost of your business equipment, and will certainly not include liability and business interruption.
Always maintain good records. Being able to readily access receipts etc will save you a lot of time and many headaches. Keeping a complete home inventory is also a good idea.
If you rent a property it is worth considering Renters Insurance, as this will cover you against theft, fire or personal injury. The landlord may well have Home Insurance, but this will not cover your personal belongings, in the case of loss or damage.
How Much is Enough?
You should purchase enough insurance to cover the cost of your home and it's contents. What you need to do is to work out how much it would cost you to replace everything and to also rebuild your home.
It is always advisable to shop around when buying Home Insurance. Some insurance providers may offer a better deal if you already purchase insurance from them. Improving your home – making it more weatherproof, for instance – may reduce the cost of the policy. Also, fitting a fire alarm or anti-burglar device could also make a real difference.
You might also like...